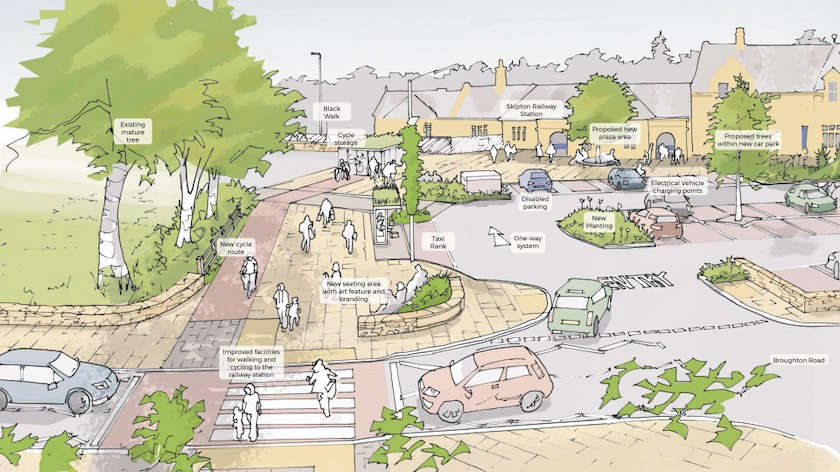 The Skipton Gateway project has been approved by councillors ahead of a final business case being submitted for the £7.8m scheme.
North Yorkshire County Council's executive has today voted in favour of the project which has been described as Skipton's "greatest investment in decades".
The project aims to create a more attractive entrance to the town with improved pedestrian and public transport links. It is being run alongside similar projects in Harrogate and Selby, with funding coming from the government's Transforming Cities Fund.
Speaking at today's meeting, councillor Don Mackenzie, executive member for access at the county council, said: "The total value of these schemes is £42m which will bring the greatest investment into three of our town centres for decades.
"This will represent a once in a generation transformation of travel gateways."
The project has been subject to several design changes and public consultations, with 66% of respondents to a latest survey saying they felt positive about the project.
However, only 125 responses were received, representing a small proportion of the district's population.
Around 22% of those who took part felt negative about the plans and the remaining 12% said they didn't know.
The proposals had included a cycle lane on Broughton Road between Skipton train station and the town centre, but this was scrapped after concerns were raised over the safety of cyclists and loss of a taxi rank.
Instead, widened footpaths and a 20mph speed limit are now planned for a stretch of the road.
Other plans include transforming the entrance of the train station with a new public plaza, as well as widened footpaths on Carleton Street and improved pedestrian crossings on several streets.
A final business case will now be submitted in April before construction works start later this year.
Speaking at today's meeting, councillor Patrick Mulligan, who represents the Airedale area on both the county council and Craven District Council, said: "These proposals will be very welcomed by residents in Skipton and across Craven, as well as those who come to visit us.
"They will provide connectivity to the centre of the town and joined up access to other parts of Skipton."
The plans include:
Skipton Train Station
A new plaza area in front of the station with seating, planting, lighting and other design features including space for public art.
A one-way system in the car park with vehicles entering via the existing access and exiting via a new exit onto Broughton Road.
Disabled parking, cycle storage and electric vehicle charging points.
Improvements to the nearby canal footpath, including resurfacing and widening.
Relocation of a bus stop.
Broughton Road
A new crossing on Broughton Road between the junction with Cavendish Street and the entrance to the B&M home store car park.
Reduce road width along Broughton Road, Belmont Street and Swadford Street to allow for widened footpaths.
Planting including rain gardens, shrubs and trees.
Upgrades to the existing crossing on Swadford Street.
Canal Footpath
Resurfacing of 1.1km of an existing public footpath between Skipton railway station, Craven Auction Mart and College Campus.
Connections to Wildflower Meadow and allotments from the footpath.
A new 300m footpath connecting the canal footpath to Craven Leisure Centre
New signage and seating.
Black Walk, Carleton Street and Gas Street
New paving on Gas Street and a new crossing for pedestrians at the junction with Cross Street.
A widening of the footway on Carleton Street by making the road one-way traffic.
Resurfacing of the footway along Black Walk and providing stepped walking access into the Morrisons car park.
A new pedestrian crossing and traffic calming measures on Cavendish Street.
Gallows Bridge
Potential for upgrades or a new bridge structure in the same location over the Leeds and Liverpool Canal.