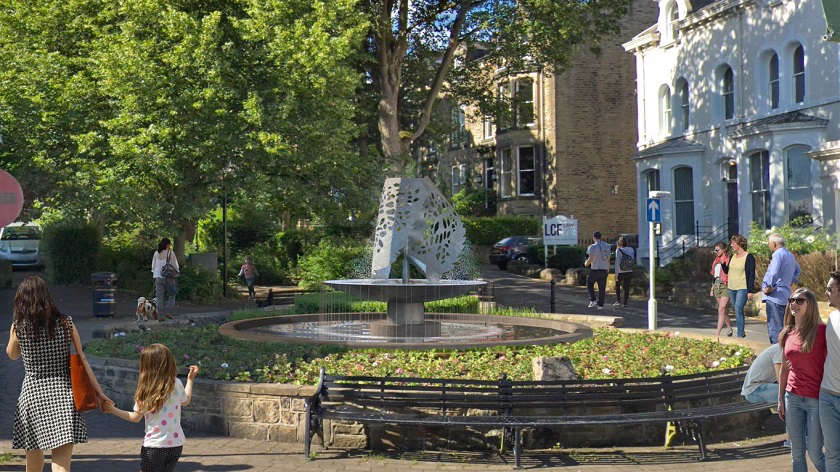 Improving Ilkley has responded to the article in national newspapers on Sunday regarding the new fountain at the top of Brook Street.
In the Observer article, Ilkley resident of 7 years, Roger Yaxley, was quoted as saying: "I know for a fact that the majority of Ilkley doesn't want this modern creation," He says that when he saw the winning design he was "appalled". "We're all pretty old in Ilkley, and this is not what people want."
The winning design was decided from a competition which received 17 expressions of interest - an expert panel selected three designs for public consultation, and the Gutch's design was chosen.
In a statement to Rombalds Radio, the charity Improving Ilkley has said:
After a very interesting weekend - in which an article about our fountain project was in the Observer, Guardian and Mail online - we would very much like to thank all of those who have supported us, be it through the wonderful responses to the Gazette piece, pledging money (we have had an influx of donations!), sharing our fundraising package or writing to us personally. All of it has been very heart-warming.
A huge amount of work and thought has gone into this project from a small group of passionate, dedicated individuals. From architects to engineers, to artists and Improving Ilkley Trustees, our lovely team has been an utter joy to work with and we are exceptionally lucky to work with experts volunteering in their field of practice: this project is a true collaboration.
After pausing to regroup, we are now committed in bringing this project to fruition and are consulting further with the various groups that have so far pledged donations. We will also continue to respond to all queries about how and why the plans have resulted in the proposed infrastructure and design.
Everyone will know our status in due course via our Facebook page, as we continue to be committed to working constructively with all our stakeholders, to try to secure a positive outcome that is supported by as many members of the community as possible. We are acutely aware that we cannot please everyone with this design, however to help underpin our wish to bring Ilkley together, we are currently exploring the development of a 3d scale model in the proposed materials to enable people to visualise what the fountain would look like.
If any of you feel you can donate towards our project, you can find the necessary links to various funding packages, below. In the meantime, if you wish to contact us, please do via our fb page or by email: trustees@improvingilkley.org
Text to Donate:
Text FOUNTAIN to 70450 to donate £20.
Text IMPROVINGILKLEY on 70085 to donate £10
Via Paypal: paypal.com/gb/fundraiser/charity/4285039
Via JustGiving: Brook Street Fountain Restoration - JustGiving