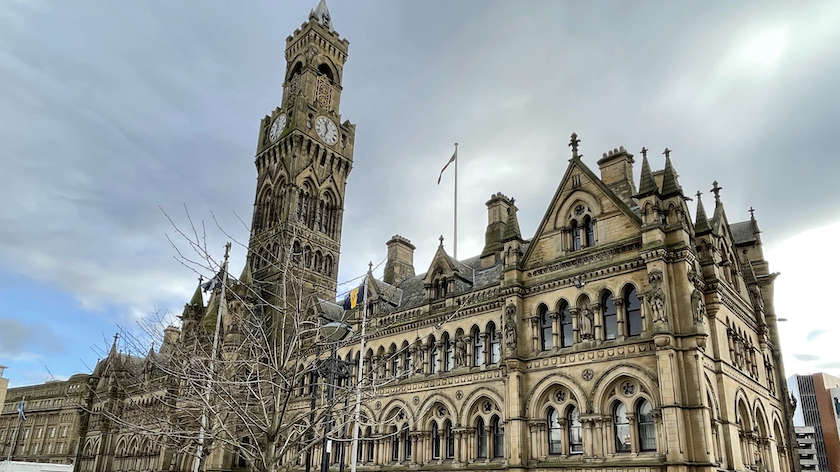 Bradford's Children's Services department is to be run by a newly created trust after a review found the council 'lacked the capacity and capability to improve services at pace on its own'.
The trust company will be owned by the Council but operated at arms-length by a new independent Chair and Board of Directors.
The Council's Children's Services were judged inadequate by Ofsted in 2018, and follow up inspections have found that the pace of improvement has been painfully slow.
Issues around high caseloads for social workers, a lack of highly qualified social workers and a reliance on agency staff, remain.
Bradford Council is currently spending £1.7m a month on agency staff.
Last year the Government appointed Steve Walker of Leeds City Council to review Bradford Children's Services, and report to Government on how the beleaguered department could be helped to improve.
Today's Government announcement said this review found "leaders in Bradford recognise the challenges for children and young people in Bradford and 'acted promptly' to ensure children's services have the resources required for improvement and that recent progress had been made."
It added: "However, the Council lacked the capacity and capability to improve services at pace on its own and recommended an alternative delivery model to support improvement in services and outcomes for vulnerable children in Bradford's care."
Bradford Council agreed to the trust model, which has recently seen Sunderland's Children's Services move from inadequate to outstanding in three years.
The trust will work closely with council leaders but will remain operationally independent.
It is the second time the Council has lost full control of its Children's Services. In 2001private firm Serco was brought in to provide Children's Services after a critical Ofsted report. The Council took back control of the service in 2011 after it was able to prove it was fit to take the services back.
Announcing the shake up today, Education Secretary Nadhim Zahawi said: "Keeping vulnerable children safe from harm is non-negotiable.
"Where a council is not meeting its duty to do this, we will take action to protect children and put their needs first.
"It's clear from the recommendations made by the Commissioner in Bradford that the Council needs support to improve and so I'm pleased that Bradford Council have agreed to establish a new trust that will bring positive change for the council and independent oversight that drives improvements.
"This is an important moment for children and families in Bradford, and for social workers and other professionals who want to create meaningful and effective relationships with them.
"These professionals take highly complex decisions each day to protect children, and I am grateful for the effort that goes into each one."
Responses
Councillor Susan Hinchcliffe, Leader of Bradford Council, said: "Nothing is more important to us than the protection of children in our District. All children deserve to have a happy childhood and full opportunity to flourish.
"We have worked hard, through the pandemic, to improve children's services and Government Commissioner Steve Walker has recognised this. Our commitment is evident in the significant investment in services and wider intensive support from across the Council but we know the pace of improvement needs to quicken.
"In response to the Commissioner's report to the Secretary of State, we are creating a council-owned children's company. We are working positively and constructively with Government in the best interests of our children. This gives our valued social care staff certainty over the future direction of the service and the opportunity to draw on resources and expertise nationally. It will bring greater investment and support so that children and young people in the district feel the impact of this work sooner.
"Inevitably this will take time and we're acutely conscious that there can be no pause in our improvement journey. We've asked Government to collaborate with us to create a commissioner-led improvement board. This will enable us to focus on delivering consistently high quality care to the children of our district.
"Our frontline staff are key to this – we recognise the hard work social care staff do every day, entering homes in some of the most challenging circumstances in our society, and we are committed to supporting them."
Responding to today's news, Keighley and Ilkley MP Robbie Moore told Rombalds Radio: "For far too long vulnerable children across Keighley and whole of the Bradford District have been severely let down by the very organisations who should be there to protect them. Repeatedly, Bradford Council have failed in their duty to protect our young vulnerable children, and today, the government have deemed Bradford Council unfit to deliver Children's Services.
"Vulnerable and looked after children deserve much better. Our area has been haunted by such failings for far too long which has led to so many tragedies in our area, including cases of neglect, continuous child sexual exploitation and the recent tragic murder of Star Hobson which could have been prevented had Children's Services acted upon repeated warnings.
"Failures of leadership, lack of cohesive strategy, poor culture and the dysfunctionality between Bradford's Children's Services department and the core management team have all resulted in Bradford Council being deemed unfit to have the responsibility of protecting our young children. I therefore very much welcome and support the government's move to lift Children's Services from Bradford to a separate Trust in the hope improvements can be delivered quickly.
"I do however have no confidence whatsoever in the current leadership of Bradford Council to deliver the changes that are required to ensure children across the Bradford District are safe and free from risk. This is a local authority whose children's services have been operating under special measures since 2018. The Chief Executive; Kersten England has resided over repeated failings since taking her position in 2015, whilst being propped up by the Council Leader; Susan Hinchliffe since May 2016, who should have been holding the Executive to account.
"It is absolutely clear that change is needed at the top, and Kersten England and Cllr Susan Hinchcliffe must resign from their positions. It is only with both new leadership at the Council and a new structure, that we can truly ensure children in our area protected."
Watch: Bradford Council leader, Councillor Susan Hinchcliffe, spoke to BBC Look North's Home & Social Affairs Correspondent Emma Glasbey: