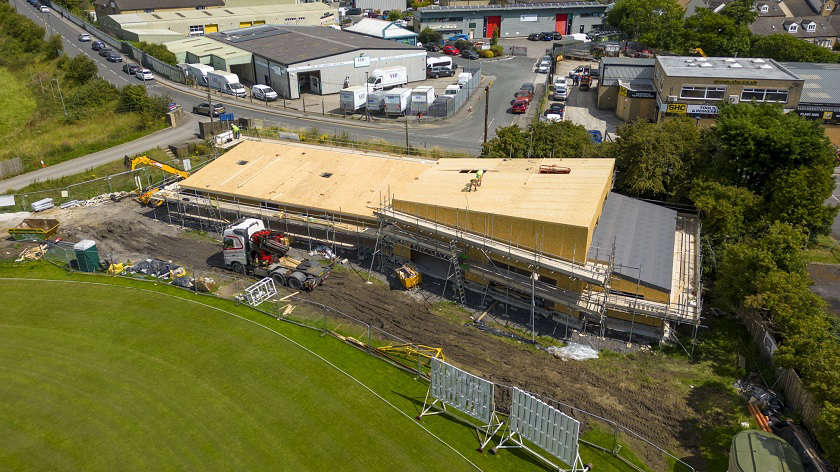 With building work on the Skipton Community Sports Hub entering its final stages, the project's organisers are about to push the button on a 28-day Crowdfunding campaign aimed at raising the monies needed to furnish the main social space and bar area.  
The 3,500 sq. ft building has been funded through grants from the Premier League, FA and Government via the Football Foundation; the England and Wales Cricket Trust (EWCT) and Craven District Council as per the Section 106 agreement with Yorkshire Housing for its Burnside development. An additional £20K is now needed in order to buy furniture and kitchen equipment.
Malcolm Birks, chairman of the Skipton Community Sports Hub, said: "Watching the building go up over the summer months has been really exciting and we're now within touching distance of delivering a fantastic community sports facility for Skipton and its surrounding areas."
"We do though need a final push to get over the line, and while £20k may seem a lot to raise in just 28-days, Sport England has pledged £8k already and so we're nearly halfway there already. I do hope people can take the time to find out a bit more about the Hub and what it'll do for the town and provide whatever support they can give – every little bit helps."
The Skipton Community Sports Hub is a joint project by Skipton Juniors FC and Skipton Cricket Club, which between them support the sporting activities of around 600 children and young people from the local area. Once complete, the facility will serve the wider Skipton community; with the Hub expected to host various community groups and clubs, as well as being the focal point for a wide variety of sporting activities.
The building has been designed by local architects and rural development consultants, Rural Solutions and construction managed by S Simmonite General Contractors.
To find out more about the project visit www.skiptonsportshub.co.uk
Tap here to access the Crowdfunding campaign.