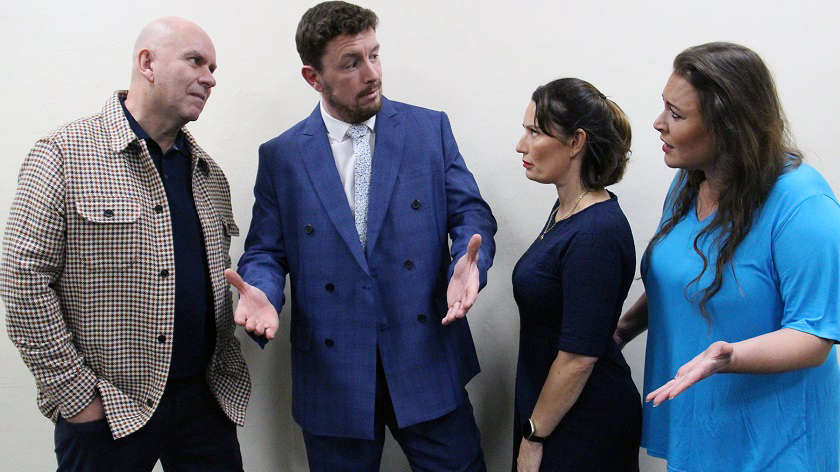 This December, theatre enthusiasts are in for a treat as Peter Whalley's compelling play, "Dead of Night," unfolds its gripping tale at Keighley Playhouse. 
From December 4th to December 9th, audiences will be transported into a world of mystery and suspense, skilfully directed by the talented Dale Chadwick. The play explores the depths of human emotions, weaving a tale of intrigue, suspense, and unexpected twists that will keep audiences on the edge of their seats.
Director Dale Chadwick brings a wealth of experience and a unique vision to the production, ensuring that every moment is meticulously crafted to captivate and engage the audience. His keen directorial eye promises to enhance the nuances of Whalley's script, creating an immersive experience for theatregoers.
The stellar cast of "Dead of Night" adds another layer of excitement to the production. Chris Avery, Sarah Carr, Howard Clements, and Jill-Marie Shepherd deliver powerful performances, bringing the characters to life with depth and authenticity. Their chemistry on stage promises to elevate the suspense and drama of the play, which will leave a lasting impression on audiences.
This intriguing thriller written by Coronation Street writer Peter Whalley is full of twists and turns. Was it self defence or was it mediated murder? According to the evidence it was a clear cut case. So why is Jack being watched? Why has the evening turned sour? Is every character what they appear to be or are they hiding some deep dark secret?
With buried secrets and lies and deceit at every turn, just who has a hidden motive?
Did Jack do it?
Dead of Night promises to take theatregoers on a thrilling journey, exploring the complexities of human nature and the consequences of choices made in the dark at the "Dead of Night".
Tickets are available now either by calling the box office on 07599 890769 or by booking online at ticketsource.
Don't miss the opportunity to experience the magic of "Dead of Night" – a theatrical masterpiece that will leave you breathless.