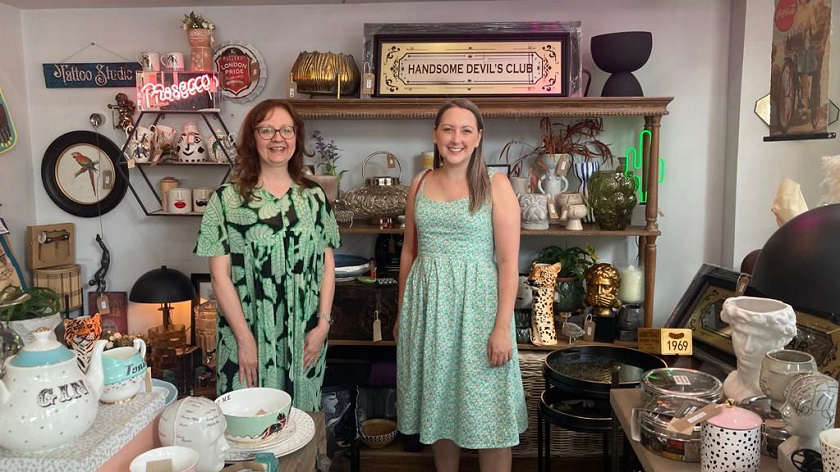 Ilkley BID under its Discover Ilkley brand has introduced a new promotional initiative to increase awareness of local businesses in the town and encourage greater local spend.
The 'Be Our Guest' campaign is giving applicants the opportunity to enjoy some complimentary shopping or eating out at a shop or restaurant they have never visited before. Each month, one lucky winner is invited to treat themselves with £50 to spend in return for answering some questions about their visit.
So far, three winners have indulged in a pamper session at Beau Monde Perfumery & Beauty Salon on Church Street, marvelled at the treasure trove of beautiful things at Corner House Interiors on Leeds Road, and enjoyed a family meal at Pizza Express on Station Plaza, all with glowing reports about the experience and the customer service.
Amy Scarr chose to spend her £50 in Corner House Interiors after admiring the unique and vibrant items in the shop window every time she passed by, but never actually going in. She bought some homeware accessories and plans to buy more pieces in the future.
Katherine Hallam treated herself to a pedicure and some perfume at Beau Monde and enjoyed a very relaxing experience, and David Fielden from Bingley took his children and in-laws to Pizza Express for a very tasty lunch.
Helen Rhodes Ilkley BID Manager says: "We are passionate about promoting the 'shop local' message and we want to ensure that the whole town excels as a place to shop, visit and enjoy. There are so many fantastic businesses in town, but we know through recent market research that visitors and residents may not necessarily have visited them all, especially if they are located away from The Grove and Brook Street. The aim of our Be Our Guest initiative is to encourage people to 'try somewhere new' and to share their experiences so other people will hopefully be tempted to visit as well."
The businesses selected see this initiative as a very positive way of reinforcing this message.
Phil Akash, Manager of Pizza Express Ilkley says: "Here at Pizza Express we believe that it is important to support local business, local initiatives and local communities. Whilst we are a multi-national company we value being part of the community and appreciate new ways to promote Ilkley as a place to visit. We hope that through initiatives such as the "Be Our Guest Scheme" we can raise awareness of the fantastic businesses, establishments and venues Ilkley has to offer."
Jenny Paxton, co-owner of Beau Monde says: "This is a great campaign to encourage residents and visitors to experience somewhere new. We welcome all new customers and are always happy to help, whether that's finding the perfect gift for someone or advising on a product or service for themselves. We are very proud to have a very loyal customer base who have been coming to us for many years, and it was really nice to meet Katherine on her first visit and we thank her for her positive review of our salon."
And Melanie Dunstan from Corner House Interiors was equally supportive of the scheme saying: "As a small independent business it was great that I was chosen by Amy to spend her £50, I really enjoyed meeting her and showing her my stock and I hope to see her again soon."
Anyone can submit an application to take part by completing a simple form about themselves, their favourite Ilkley businesses and places they have seen but never visited.
To read all the reviews and submit an application, visit the Discover Ilkley website at: www.discoverilkley.co.uk