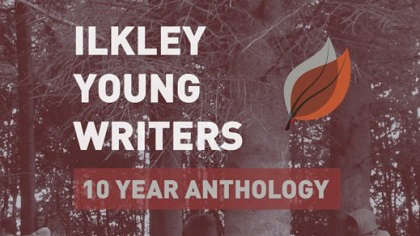 Ilkley Literature Festival is proud to announce the launch of a new publication celebrating ten years of its Young Writers group.
To mark the milestone anniversary, Words Hanging Off Trees is a collection of work featuring 30 Young Writers and group leaders past and present. Available to pre-order now, it covers topics such as identity, love, fictional creatures, and so much more.
Established in 2011, the group has since offered young people in Years 8-13 the chance to be inspired, write, create and learn with likeminded peers. The Young Writers have shared, practised and polished their craft under the tutelage of published poets, authors, playwright performers and creative facilitators. These include Michelle Scally Clarke, Becky Cherriman and Sai Murray.
From poetry to prose, song writing to playwriting and monologues to short stories, they have covered an array of artforms and genres over the years. Beyond the act of writing, sessions have also covered performance skills and breathing exercises, giving young people the confidence to perform their work and take their writing to the stage. Michelle Scally Clarke was one of the groups Creative Leaders from 2011-2021. She has worked alongside 'greats' such as Linton Kwesi Johnson, Benjamin Zephaniah and poet laureate Simon Armitage.
"This Anthology is a celebration and testimony, a voice, of Bradford and Ilkley's young writers. This beautiful collection of poetry and prose leaves you inspired", said Scally Clarke. Developed and compiled throughout the Covid-19 pandemic, the Young Writers met over zoom with the groups creative leaders to develop the books title, themes and concept. They also worked on a group poem, which you can read and listen to here. Frankie Wills, a Young Writer from 2015-19, is currently completing a BA in English at Nottingham University.
"Young Writers provided me with a safe space to develop both as a writer and as a person. I was able to be myself in a way that I found hard at school."
She went on to say, "I know that I would not have half the confidence I have today if I had not decided to go to that first taster session. I will always be grateful for the wonderful memories."
Erica Morris, director of Ilkley Literature Festival said, "we are so pleased to be able to celebrate this milestone through the commissioning of the anthology. The quality of work produced by our Young Writers is there for all to see."
The anthology is available to pre-order now: www.ilkleyliteraturefestival.org.uk/children-young-people/young-writers-anthology
To view the anthology: www.ilkleyliteraturefestival.org.uk/children-young-people/young-writers-anthology/read-the-anthology