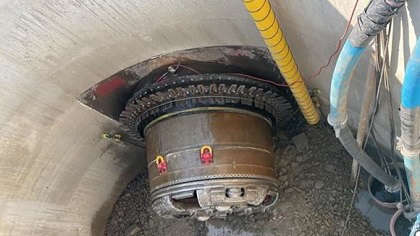 The second length of sewer under the A65 in Ilkley, part of Yorkshire Water's project to build a new sewer in the town to reduce storm overflows into the river Wharfe, has been completed.
Remote tunnelling equipment, named Diggy by the children at Ashlands Primary School, completed the 600-metre sewer and has been retrieved and removed from site. The completion takes the total tunnelled by Diggy to 835m.
Ben Roche, director of wastewater at Yorkshire Water, said: "This new sewer will accommodate higher flows of wastewater during periods of heavy and prolonged rainfall and will ultimately reduce the number and volume of discharges into the river Wharfe from our network.
"We've been working underneath Ilkley since April and have some final work to do in the coming weeks to fully commission the new sewer and enable it to start receiving Ilkley's wastewater."
A smaller tunnelling machine, nicknamed Diggy Junior, will begin work on the third tunnel, an extension of the original project that will see it dig from Wharfe View Road car park to the riverbank off Castle Road. Work on the third tunnel will begin on 25 September for approximately four weeks.
Ben added: "Our attention will now turn to the final tunnel. The decision was taken to bring forward investment to complete this final section while we already have the equipment in place in the area.
"While the extension will be constructed now, it will not become operational until 2026 as additional upgrades are required on our network to enable it to function as designed. These will be carried out in the coming years and the extension tunnel will become operational in 2026.
"Throughout this project we have worked hard to keep disruption to an absolute minimum. Using trenchless technology and tunnelling equipment controlled remotely has enabled the sewer to be laid underneath Ilkley without the need to dig up a busy road through the town.
"It is important all stakeholders come together to improve water quality in the river Wharfe. We're playing our part through this project and are planning further enhancements to our network in the area in the coming years."