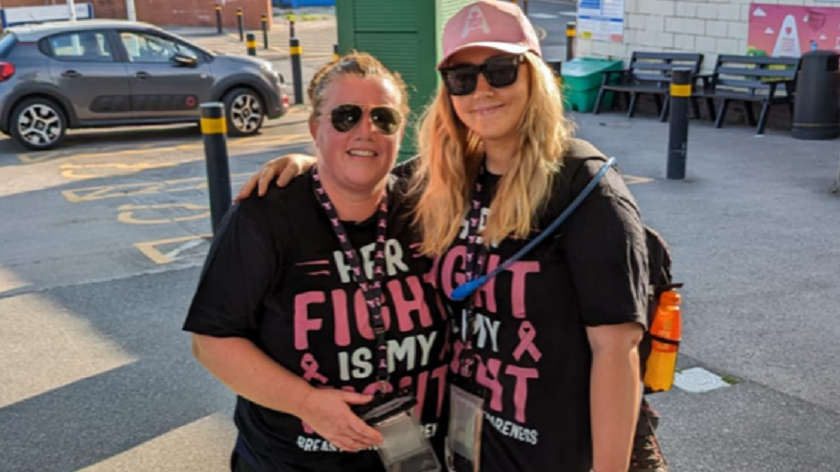 Earlier this month Sharron McGuinness and Hayley Gibb walked from Leeds to Airedale in a 23-mile trek.
The pair were raising money for Airedale Hospital and Community Charity, specifically the Breast Care Unit at the hospital as Hayley's mum had recently been diagnosed with breast cancer.
From their walk on 9 September they managed to raise a total of £2,577, exceeding their target of £1,500.
Sharron works in the Acute Assessment Unit at Airedale Hospital, and Hayley works at a Silsden GP Practice.
Sharron, from Silsden, said: "Hayley's mum and my best friend Adele Gibb was diagnosed with breast cancer in July. Recently, so many people we know have begun their fight against cancer.
"We understand the importance of funding to help develop cancer treatments, equipment, and services.
"Our experience last Saturday was unbelievable - we still can't believe that in the extreme heat we actually walked 25 miles, just short of a marathon!"
"It was so challenging because of the weather conditions, but the support we had when we arrived was amazing.
"Thank you to everyone who donated and cheered us on, and special thanks to security, Zoe Heaton, Elizabeth Lund, and Rose Miller for helping to organise the arrival party."
Hayley, also from Silsden, said: "It was hard work in the heat that day but so worthwhile, especially with the amount of money we raised for the Breast Unit -- something close to our hearts."
To find out more about fundraising opportunities at Airedale Hospital and Community Charity, email anhsft@nhs.net or call the Charity office at 01535 294870.