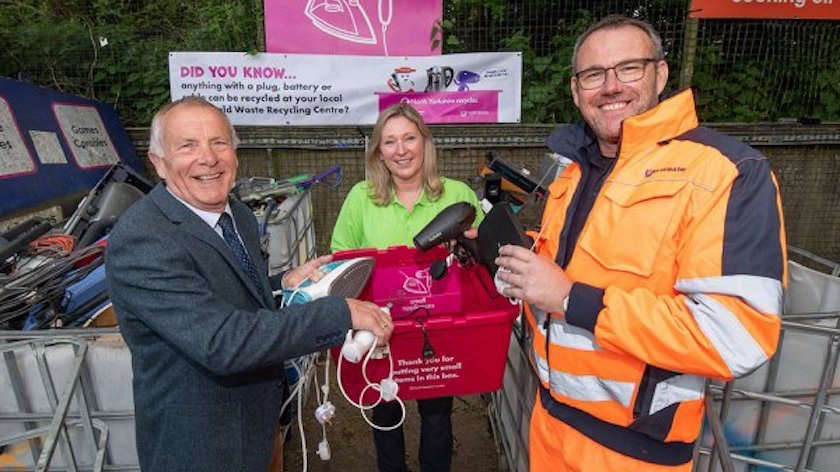 A roadshow at Skipton Market and a temporary library drop-off service are being used as part of efforts to encourage residents to recycle broken or unwanted small electrical appliances.
North Yorkshire County Council is running a campaign that aims to reduce the number of small electrical items being thrown in the bin or hidden away at home.
Household Waste Recycling Centres (HWRCs), which are operated by Yorwaste on behalf of the county council, accept items such as kettles, hairdryers, toasters and electric toothbrushes free of charge. Anything with a plug, battery or cable can also be recycled, as well as battery powered items including calculators, torches and toys.
In a drive to increase the number of broken and unwanted electricals being taken to HWRCs, Skipton Library, along with 19 others in the county, will temporarily be collecting small electrical items from 8th June to 8th July. The Library will also be giving away tubs to store used batteries, which will be available while stocks last.
The North Yorkshire Rotters will also be collecting small electrical items and giving away battery tubs at a special roadshow at Skipton Market from 9am until 2pm next Friday (17th June)
County Councillor Derek Bastiman, Executive Member for Waste Management on North Yorkshire County Council, said: "We hope this initiative will increase awareness of our Household Waste Recycling Centres as a place where broken and unwanted small electrical appliances can be taken for recycling.
"It's astonishing to think that across the UK, households are hiding 527 million unwanted electricals and that if all these old electrical items were recycled, it would cut as much CO2 as taking 1.3 million cars off the road!
"Recovered plastic and metals like gold, copper, steel and aluminium can be used to make new products – from bicycles and children's play areas to life-saving equipment. It's a very easy way for us all to make a difference by reducing the demand for new raw materials.
"The library drop-off service and market day events throughout June will make it easier for many people to drop off items that don't work anymore and can't be repaired. But, if you struggle to get to a Household Waste Recycling Centres please ask a friend or neighbour to take your broken appliance the next time they go and I would encourage residents who do visit our Household Waste Recycling Centres to ask anyone they know who doesn't drive if they need any help."
Household Waste Recycling Centres have new pink boxes to collect very small items such as electric toothbrushes, torches and toys. There's also new, bright signage surrounding the collection cages and fencing. You can find your nearest Household Waste Recycling Centre.
Laptops, tablets and smartphones that still work can be dropped off at participating libraries and donated to the Reboot scheme.