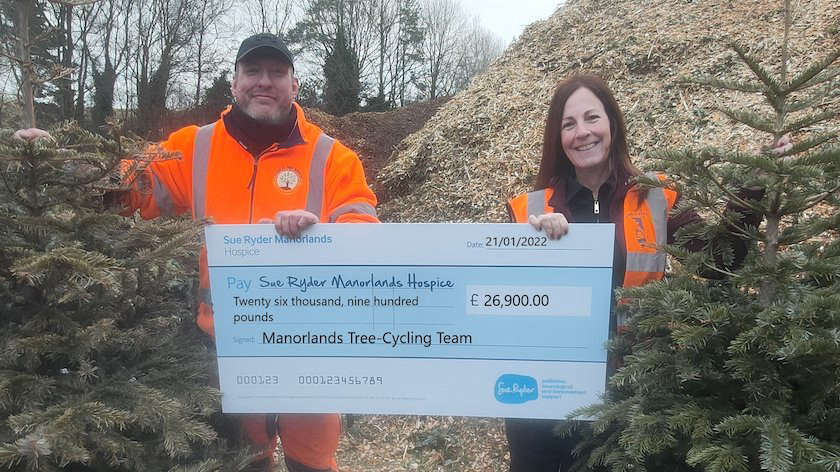 Volunteer Sam Harvey with Lee Butler from Keighley Tree Services
Sue Ryder Manorlands Hospice has thanked communities across the Aire and Wharfe valleys who have helped raised more than £25k through this year's Christmas Treecycling service.
More than 2,000 real trees were collected from people's homes across the area earlier this month, with residents making donations in return for their trees being collected, chipped into mulch and recycled.
A total of £26,900 was raised to help Sue Ryder continue to offer its expert care and bereavement support to local families at Manorlands in Oxenhope.
The charity worked in partnership with Keighley Tree Services, Skipton Self Drive, Keelham Farm Shop and Settle District of Young Farmers Clubs, who helped to collect trees in the part of the district they are based.
40 volunteers kindly donated their time to help collect the trees, which were then chipped down by Keighley Tree Services to be used as managed eco-piles in local woodland helping to provide cover and habitats for wildlife, or sent to a biofuel power station near York to heat people's homes.
Andrew Wood from Sue Ryder Manorlands Hospice, said: "Christmas Treecycling is a green and practical solution to the problem of what to do with a real tree once the festivities are over. We want to say a very special thank you to the local community for supporting our scheme. By recycling your no-longer needed trees and making kind donations, you have helped to reduce landfill and raised a tree-mendous £26,900 for our hospice. This will help us to continue providing our expert care and filling families' final days with love.
"We also want to say a big thank you to Keighley Tree Services, Skipton Self Drive, Keelham Farm Shop and Settle District of Young Farmers Clubs for donating their time and for their incredible efforts and hard work – we really appreciate it."
Sue Ryder Manorlands Hospice is currently calling on local people to lace up their trainers and take on the Keighley 10k and 5k in March to support its vital work. For more information and to register for a place, visit sueryder.org/keighley10k