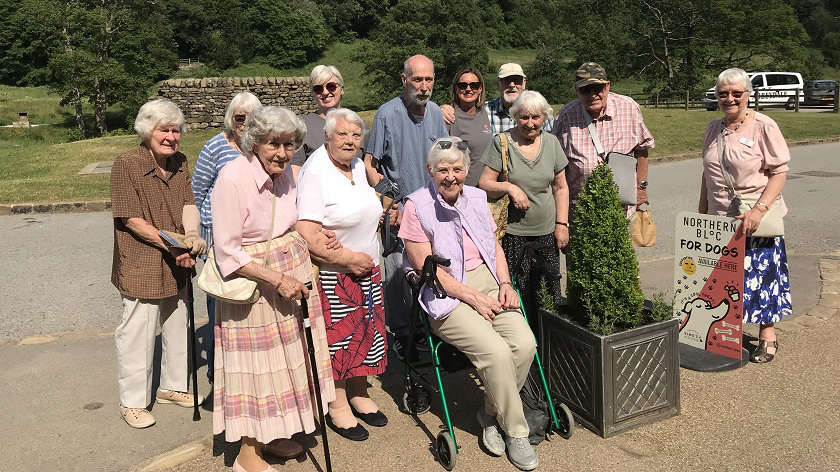 Local residents have once again enjoyed special scenic trips followed by afternoon tea courtesy of charity Ilkley and District Good Neighbours.
Three separate excursions have taken place over the Summer, with over eighty guests and volunteers enjoying a day out in the beautiful Yorkshire countryside and afternoon tea at the Cavendish Pavilion Café on Bolton Abbey Estate.
"The trips first began fourteen years ago and over the years have grown more and more popular" said charity Trustee Anita Dunford. "Many of the guests are older people who live alone, who love the countryside but find they can no longer access it on their own, and these afternoon excursions provide an excellent opportunity to enjoy a few hours in the company of others, helping to reduce feelings of social isolation. It is so important to keep them in touch not only with the lovely countryside but also to help them interact with other people."
One female guest said: "We all enjoyed just getting out and having a wonderful day together. It's something different that I really look forward to."
Helping to fund the trips were donations from the Rotary Club of Ilkley Wharfedale, which has always been supportive of the charity, along with a grant from the People's Postcode Lottery.
Additionally, local solicitors Walker Foster donated some funding and kindly provided volunteers to assist with the events.
Anita added: "We would also Iike to thank our charity's wonderful volunteers and the volunteer drivers from Ilkley Community Transport, without whose help these trips wouldn't take place – and not forgetting our thanks to the staff at the Cavendish Pavilion for giving the guests an exceptional afternoon tea experience."
Ilkley Good Neighbours operates a range of social and practical schemes aimed at improving the daily lives of some of the most vulnerable people in the area. The schemes include Shop Assist, and social support projects such as one-to-one Befriending, regular social events and the popular Moving On Friendship Group, which meets at the Clarke Foley Centre each week. Each scheme is supported by dedicated volunteers willing to help others in the community.
For further information visit www.goodneighboursilkley.org.uk or phone 01943 603348.