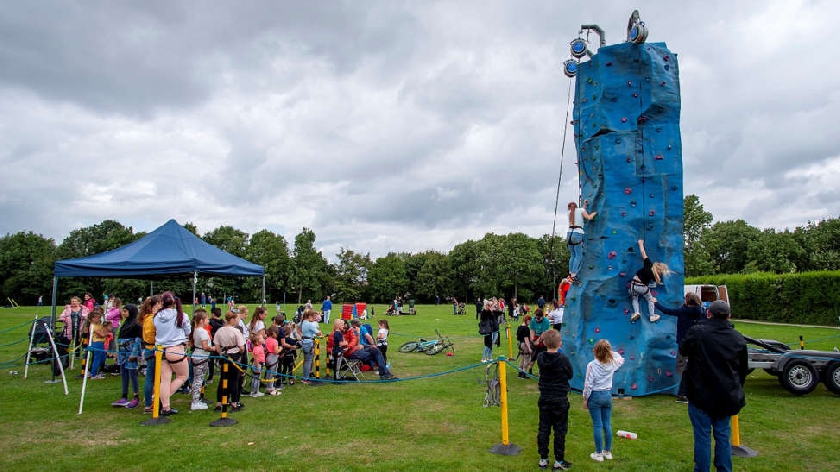 Parks in Ilkley, Keighley and Silsden are among those to host Play in Parks events aimed to 5 to 14 year olds during the school summer holidays.
Following a successful first season last year, Bradford Council will again be hosting a series of free activity-packed fun days in parks across the district.
The Play in Parks events will feature bouncy castles, giant games, climbing tower, sports, dancing, adventure play, art and crafts and lots more.
Free, healthy packed lunches are available between 12.30pm and 1.30pm, subject to demand.
Among the parks where the events are taking place are Devonshire Park, Lund Park and Hainworth Rec in Keighley, East Holmes Playing Field in Ilkley, Menston Park and Silsden Park.
Activities are aimed at 5 to 14 years-olds and will run from 11am to 3pm.
Councillor Imran Khan, Bradford Council's portfolio holder for education, employment and skills, said: "The Play in Parks events were a huge success last year so it is great that we are able to do it again in 2022.
"The events allow families with school-age children to enjoy organised, fun activities in some of the district's lovely parks and green spaces. These events are free which, considering the cost of living crisis, is great news for families looking to keep their children active and entertained through the school holidays. Every child deserves to enjoy their school holiday being active, playing and having fun with friends.
"The range of park locations means we can ensure that free school meal and other disadvantaged children across the district have access to fun this summer.
"I would encourage families to check out when we are coming to their local park and come along and join the fun."
The Play in Parks events are jointly funded by the Department for Education's Holiday Activities and Food programme (HAF) and Living Well and are being led by Bradford Council's Community Sport and Activities Development Unit.
Dates for local Play in Parks events:
Wednesday 27th July - East Holmes Playing Field, Ilkley
Friday 29th July - Hainworth Rec
Monday 1st August - Devonshire Park, Keighley
Friday 5th August - Menston Park
Monday 8th August - Lund Park, Keighley
Monday 29th August - Silsden Park
A full list of the Play in Parks events can be found on the Bradford Council website.