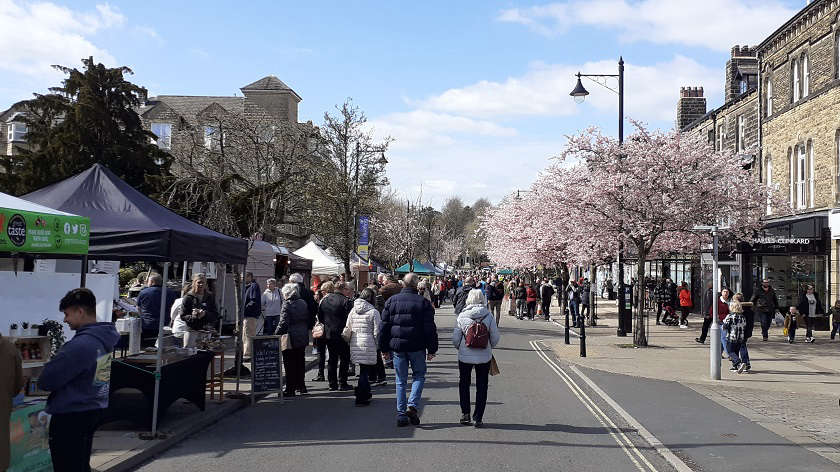 Real Markets Yorkshire will bring its monthly market to The Grove in Ilkley this Sunday 10am until 3pm.
Along the length of The Grove, the independent stallholders will include: Andrea's Cheesecake Heaven; The Brownie & Bruffle Co; Casa Mia; Crumbs; Tricky Dickies' Sticky Toffee Pudding Co; Gourmet Scotch Egg Co; Holy Smokery, Marina Quay, Coulton Mill Cyder; Marsh Top Meats; John Roberts Botanic Request; Bree'Osh; Heart of Sicily; Leeds Bread Co-op; The Ilkley Kitchen; TruFoods; Elizabeth J Design; Hipandra, Jane Gales, Lily & Rabbit; Olive Made; Pacific Ridley; Studio Pakes; Andrew Bennett Wildlife Photography; Woodcutter Creations; Yorkshire Blankets; Yorkshire Dales Crafts; Garth Cottage; Yorkshire Mushroom Emporium; Organic Pantry; Lily & Lister Coffee; Third Wave Coffee; Cozy P's Wood Fired Pizza; Farsley Fire & Smoke; Concrete and Cacti; Cottage Fayre Fine Foods; The Sawley Kitchen; Queen Olives; Fusion Chocolates; Gerhard's Pretzels; Ilkley Baht'at; Dales Candle Co; Lasagnas on the Road; Pick Mix Gift; Por Favour; Really Indian; Wharfedale Fine Cheeses and Yoyo Laos Sauce.
The community stalls this weekend are Ilkley Literature Festival, pick up a programme and ask any questions about the 50th festival which starts on Friday 6 October.
The second community stall is Yorkshire Air Ambulance, an independent charity providing a rapid response emergency service to 5 million people across Yorkshire. To keep both of its Air Ambulances maintained and in the air it need to raise £19,000 every single day. Find out how you can help and win a prize on the tombola.
Real Markets Yorkshire have markets in Grassington on 15th October and Otley on 29th October and will have an extra Christmas Ilkley market in December, so the final three dates in Ilkley for 2023 are 5th November and 3rd & 17th December.