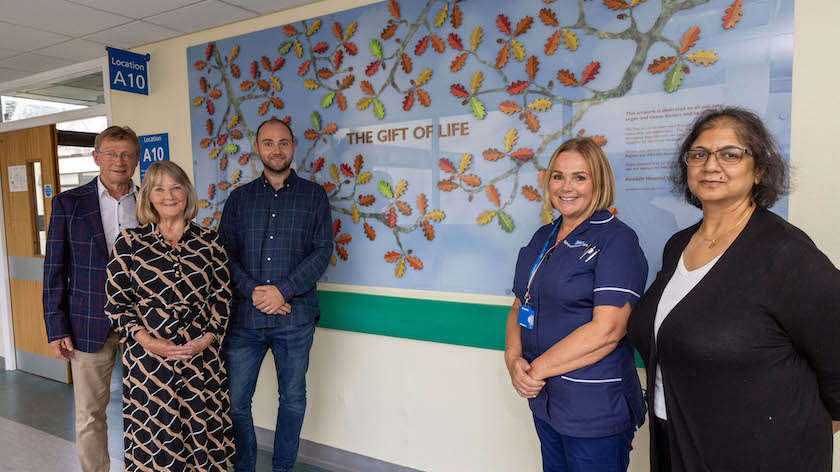 A new memorial artwork has been unveiled at Airedale General Hospital during Organ Donation Week to commemorate organ donors.
The piece was commissioned by the Trust's Organ Donation Committee as a way of remembering the selflessness of donors and the gift they have given to others.
Rachel Wiseman, Specialist Nurse – Organ Donation at NHS Blood and Transplant said: "A few years ago, the Department of Health and Social Care launched a campaign to increase the number of Organ and Tissue donors within the UK and recommended that each Trust should have a memorial available for individuals who have saved and enhanced the lives of others by giving 'The Gift of Life'.
"In 2013, we planted a rose garden outside of the main entrance at the hospital but we wanted to have something within that families could continue to add the names of their loved ones to.
"Organ donation is such a selfless act of kindness and generosity. Myself and everyone who has been involved in this feel it is wonderful that we can honour our donors with this beautiful artwork."
The three-dimensional memorial artwork, titled Seasonal Oak, was created and installed by Hospital Art Studio and features an oak tree with almost 180 leaves in autumnal shades.
Karen van de Bospoort, Director of Hospital Art Studio, said: "The Tree of Life has been used in many cultures to symbolise immortality and regeneration.
"We proposed an iconic tree, the oak, to represent organ donation at Airedale Hospital and it has been designed so the observer feels as if they are immersed within its upper branches.
"Over time, the artwork will evolve as new green leaves are added to symbolise regeneration and the gift of life that is created through organ donation."
15 green leaves, with the names of donors, were added to the artwork at the event by their families and loved ones.
Alison Salisbury and her partner Nick attended the unveiling which honoured her son, Felix, who passed away earlier this year and went on to donate his organs. "It was a tremendous privilege for us to attend the art installation at Airedale," says Alison.
"To be present with other families who have experienced similar bereavement and the process of organ donation gave us a feeling of collective pride.
"It was incredibly emotional to hear Felix's name read out and add the green leaf that held his name to the memorial.
"For Felix to be remembered for his gift of life on a permanent memorial is something very precious.
"I have a huge amount of gratitude for the ICU and Organ Donor teams who cared for Felix with such dignity and respect in his final days and supported my family and I through the process.
"I would urge everyone to join the Organ Donor register so that, should the unthinkable happen, there is an opportunity for a life to be prolonged elsewhere."
Currently more than 7,000 people are waiting for an organ transplant in the UK. Families will always be involved before organ donation goes ahead so it's important that they are aware of your choices.
David Crampsey, Airedale NHS Foundation Trust's Medical Director said: "It was a privilege to see the Airedale memorial artwork unveiled and be able to commemorate donors for the gift they have given to others.
"It's hugely important that we continue to recognise the importance of organ donation.
"We encourage everyone to register their organ donation decision online and to talk to loved ones so they can be clear about your wishes."
The best way to make your decision known is to record it on the NHS Organ Donor Register and tell your loved ones. You can do this online at https://www.organdonation.nhs.uk/register-your-decision/, via the NHS app or by calling 0300 123 23 23.