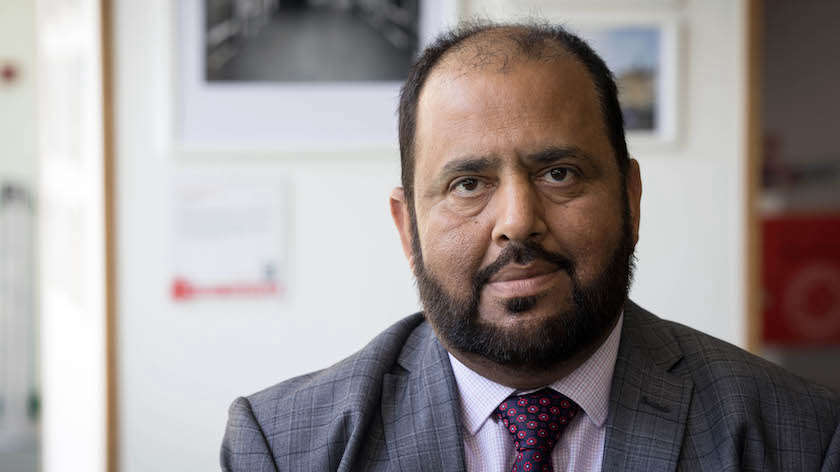 A man with three decades of experience working with different communities has joined the team at arts charity Keighley Creative.
The organisation has appointed Javed Bashir as its cultural heritage and diversity lead.

The father of four said he wants the people of the town to have pride in Keighley, and the arts are an ideal means to achieve that.

Mr Bashir views his appointment as his way of contributing to his home town after successfully working across the country and abroad. "I thought it was about time to put something back into Keighley," he said.

"I've been quite successful in my jobs; I've achieved a level of success and reputation, with a number of awards, including a doctorate from the University of Bradford for my work in the community. I've worked in Bradford, Peterborough, Walthamstow, Blackburn, and I've also done some work in Pakistan and Kashmir, the middle east, so I thought it was about time to put something back into Keighley."

He has already begun his work to increase the involvement in the activities of the charity, which is based in the former Sunwin House department store on Hanover Street.

He said: "All my life I've been trying to bring different communities together and this project is a good opportunity now to bring different communities on board, work together - that's what we need in Keighley.
"The older generation, my father's generation, only knew two professions: become a doctor or a lawyer, but nowadays, we need to give people alternative options. Art is a wonderful opportunity. It's not just painting; it's about being creative. A lot of people have talent and we need to nurture those talents.

"It gives people more options, and enables them to develop their time into different hobbies, and hopefully they can make some money from it in the future."

Mr Bashir said the town's communities have changed over the past 30 years. "Previously I was only working with the English and Asian communities, and aware of the established Italian and Ukrainian communities, but there has been a new influx of people from different parts of the world: eastern Europeans, migrants, Kurdish, Syrians and Ukrainians coming to the town as well. So we need to be inclusive, ensuring everyone gets the opportunity to be part and parcel of this.

"Keighley Creative is a platform with which to promote talent. My job is to ensure new people can access this opportunity and they are represented on this platform as well. It's also about helping people to understand the importance of art.

"I want Keighley to become a national platform that we can be proud of, where we have helped young people develop their skills in Keighley and other people can benefit.

"Keighley was a fabulous place, and I'm sure it still is, but we need to get communities working together, appreciating and understanding each other's cultures.
"That's what we need to develop: a sense of pride in the place for our young people. I'm working with some local institutions, developing a video of young people from the community. The title will be I Love Keighley."

Mr Bashir said he shares Keighley Creative's aims of developing people's artistic talents and enable them to follow careers in the creative industries. He says the charity is an ideal place where the town's diverse groups can come together.

"Unfortunately in Keighley, there aren't many places where different communities can find common ground. You have pockets of the Asian community; pockets of the white community - where can they come together? Art and culture is a good meeting ground where we can share our skills, interests and ideas and hopefully that can bring the people together."

The charity's creative director Gemma Hobbs said: "It's fantastic to welcome Javed to the Keighley Creative team, and back into working in Keighley. The knowledge, energy and understanding he has gained over many years of community work are infectious and he is already planning some exciting and ambitious new events alongside our festival team. Watch this space for music, food, spoken word, literature, and celebration - coming soon!

Keighley Creative has secured funding to buy a building as a hub for its activities and will stage its annual Keighley Arts and Film Festival in October, along with activities throughout the year.