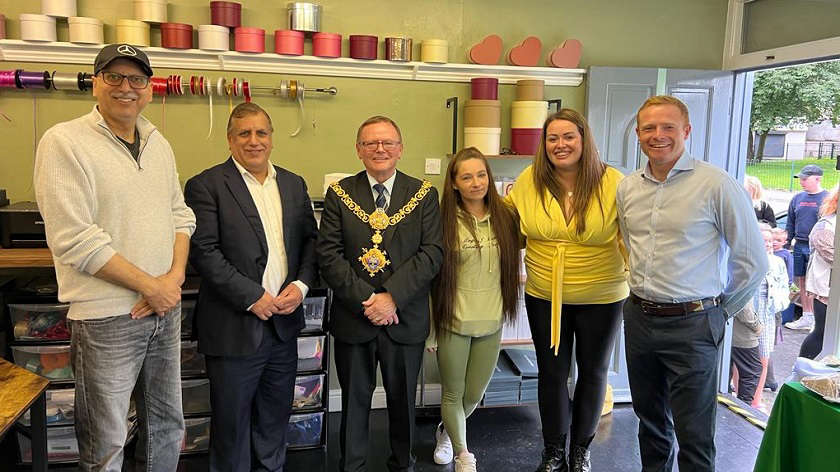 A new photography and personalised giftware shop and studio has recently opened its doors on South Street in Keighley, bringing a unique blend of creativity to the town.
The shop-studio, Happy Everlie After & Magical Memories Creating Perfection is the brainchild of two budding local business partners, photographer Hayley Kearton and personalised giftware guru Shauna Easton.
The grand opening event of the shop saw an enthusiastic turnout, with local MP Robbie officially cutting the ribbon and town officials, including Mayor John Kirby also in attendance.
A live raffle draw was also held on Facebook to celebrate the grand opening, offering a range of exciting prizes from the shop to participants.
Shauna Easton is the driving force behind "Magical Memories Create Perfection, brings a treasure trove of personalised items and gifts to the shop. From custom bottles and shirts to elegant slates and welcoming boards, the shop will offer a wide range of options to cater to various tastes and occasions.
Hayley Kearton's journey into photography began over a decade ago during her university days, where she was studying to become a secondary design technology teacher and discovered her passion for digital editing. Her photography studio will offer photoshoots every occasion.
Commenting on the new shop-studio, local MP Robbie Moore MP said: "It's always fantastic to see a new small business opening its doors in Keighley and what better than Shauna and Hayley's brilliant new shop-studio business, which is already bringing creativity and a touch of magic to South Street.
Shauna and Hayley's new shop-studio exemplifies creativity and innovation in our town and it really was an honour to be asked to cut the ribbon. I'm excited to see this brilliant new business succeed and both Shauna and Hayley will have my complete support throughout this exciting new journey".
Follow Happy Everlie After and Magical Memories Creating Perfection on Facebook.