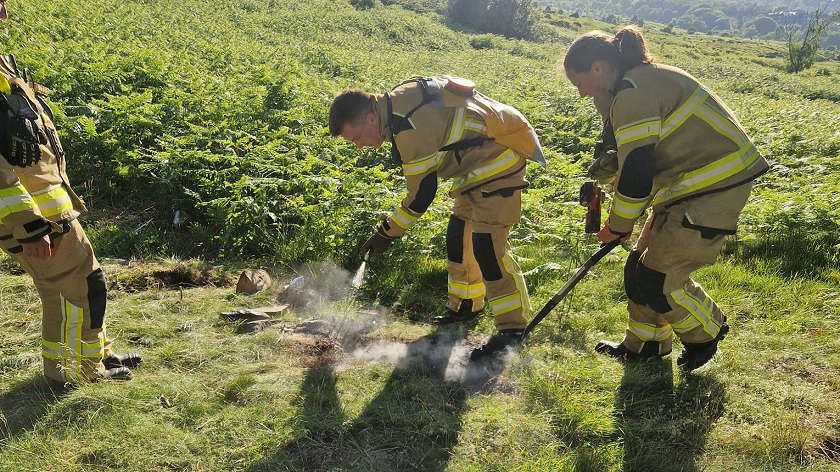 Firefighters in West Yorkshire were called out to four times the number of incidents on Tuesday than they would normally expect.
Record breaking temperatures across the country meant that West Yorkshire Fire and Rescue Service had to deal with hundreds of incidents and over 2,300 calls in just one day.
And at a meeting on Friday a fire chief said that due to climate change the issue of scorching temperatures was one that "is not going to go away."
Area Manager Scott Donegan was giving West Yorkshire Fire Authority's Community Safety Committee an update on the service's recent performance on Friday when the period of scorching weather was raised.
He said since April the service has seen a high number of "secondary arsons" – fires in the open or involving rubbish/vegetation that are thought to have been started deliberately.
He said firefighters were called a number of these incidents on Tuesday, and that the recent period of hot weather had put a huge train on the service.
The full number of secondary arsons from Monday and Tuesday had yet to be logged – he told the committee, which is made up of Councillors from across West Yorkshire.
On Tuesday – when the UK saw its highest recorded temperatures in history, the service received 2,322 calls.
Of these 1,253 were 999 calls.
Mr Donnegan said: "We went to 275 incidents, which is around four times higher than we'd normally expect.
"The central operators dis a fantastic job getting us out to these incidents.
"16 fire and rescue services declared a major incident. We didn't."
Declaring a major incident would have allowed the service to call in for support from neighbouring fire services.
John Roberts, Chief Fire Officer, said: "There was no point declaring a major incident because every service around us was in the same boat.
"If circumstances were different and the issue was isolated in West Yorkshire it would have been different and we might have sent the alert out, but coast to coast, every service was busy."
Officers were asked how prepared the service was for climate change, which experts believe will lead to more regular periods of intense heat.
Mr Roberts said: "Whilst most media attention was on fires in London, fires were happening across the country.
"I believe a number of properties in Barnsley were destroyed.
"These are changing times, and these problems are not going to go away."