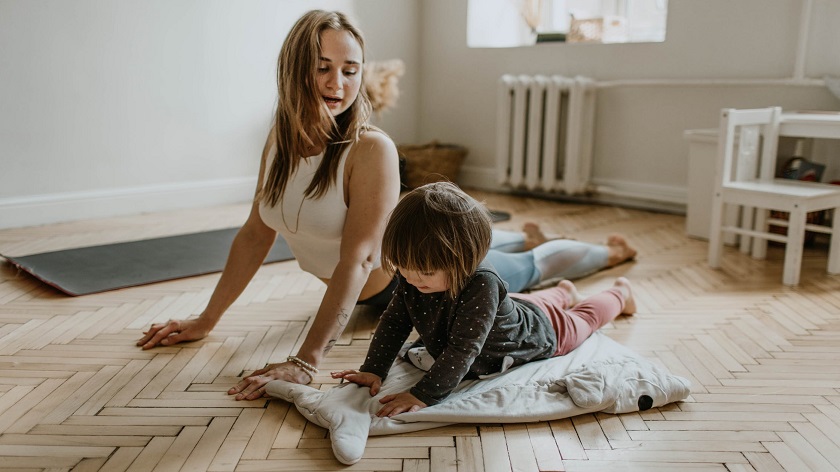 Young children and their families have the opportunity to get into yoga in the half term break with special free online activities organised by Bradford Council's Libraries service.
The Yoga Extravaganza is being hosted by Bradford Libraries during the week of 15-19 February and will include story times, yoga poses and live online yoga sessions.
A different activity will take place each day and they can be accessed through logging on to Bradford Libraries, YouTube, Facebook or Twitter or by going to the yoga page on www.bradford.gov.uk/libraries .
There will be an online Teddy Bears' Picnic story time for babies at 10am on the Monday. Families with pre-school children can join yoga specialists Diddly Oms via Zoom at 2pm on the Tuesday. Booking is essential for this Zoom session – contact susan.brewster-craig@bradford.gov.uk to book a place.
Wednesday sees an online Gingerbread Man story time for pre-schoolers at 10am and at 2pm on Thursday there will be a story time for 5-7 year olds with Diddly Oms reading Super Tato by Sue Hendra. The week will finish with a story time for all with library staff reading Yoga Babie, a book by radio and TV presenter Fearne Cotton. Each story time will include some gentle yoga poses.
Throughout the week Bradford Libraries will be releasing yoga poses on social media with a list of themed books that can be borrowed including picture books, board books, e-books and e-audio.
Cllr Sarah Ferriby, Portfolio Holder for Healthy People and Places, said: "These sessions are a great way to keep children and their families active over half-term. It's especially important this time of year to keep an active mind and body when the weather can make it difficult to get outdoors."
Reading has proven health benefits and Bradford Libraries want to offer families the chance to combine this exercise of the mind with exercise for the body.
Many of the libraries are open for Order & Collect services and with a recent focus on health and wellbeing there are lots of new titles to choose from. The libraries also have e-book and e-audio books for loan with their Borrowbox service.
The sessions are as follows:
Monday 15 Feb, 10am, Story time for pre-movers – Teddy Bear's Picnic
Tuesday 16 Feb*, 2pm, Live Zoom Session for pre-schoolers with Diddly Oms - *Booking Essential – contact susan.brewster-craig@bradford.gov.uk
Wednesday 17 Feb, 10am, Story time for pre-schoolers – Gingerbread Man
Thursday 18 Feb, 2pm, Story time for 5-7 year olds – Super Tato by Sue Hendra
Friday 19 Feb, 10am, Story time for all – Yoga Babies by Fearne Cotton
Each story time will feature gentle yoga poses.
Diddly Oms is a local yoga specialist organisation offering yoga classes for children and families.