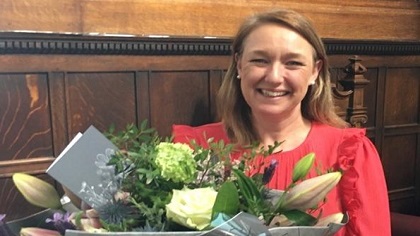 Ilkley Town Council's Clerk, Mrs Louise Close, has recently left the Council to take up a new position as Chief Officer at Skipton Town Council.
The council says that since her arrival in Ilkley Town Hall as Deputy Clerk, Louise has been a "loyal and dependable servant" of the Town Council, "a hard worker for the local community, and a listening ear on the end of the phone for Ilkley residents".
The Town Council has undertaken a significant re-organisation and re-orientation of its work during her period in post.
The Town Clerk manages the other Town Council staff, oversees the toilet blocks managed by the Council, and is responsible for daily operations and the secure management of Town Council finances. Louise has undertaken all this and ensured that meetings have continued to run by Zoom during Covid restrictions. In addition, she has been key to the organisation of events such as the Christmas lights switch-on and Remembrance Day, both as physical and virtual events in recent years.
Ilkley Town Mayor Councillor Mark Stidworthy said: "Louise has been a much liked and greatly valued member of Ilkley Town Council's team over the last few years. She has brought great energy to the task of being Ilkley's Town Clerk. She has been a pleasure to work with and we all wish her success in her new role in Skipton."
Ilkley Town Council's new Clerk, Ms Ruth Batterley, will take up her position at the Town Hall on Monday April 19th.