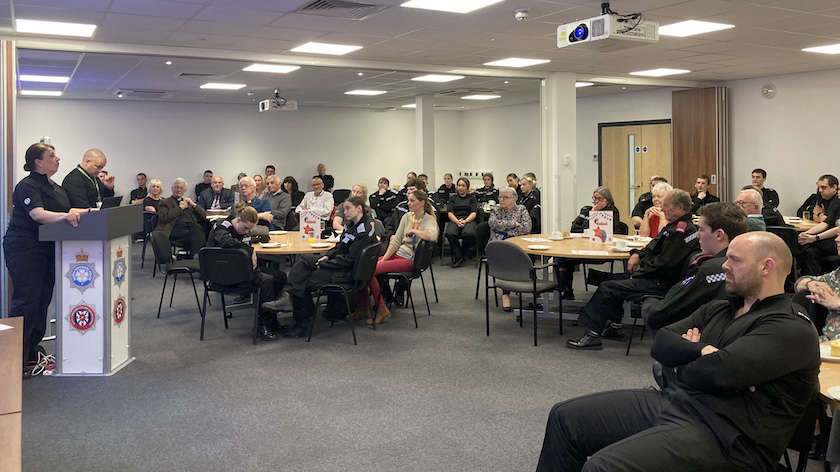 North Yorkshire Police has joined a nationwide celebration to mark the vital contribution of volunteers in policing.
Dozens of police volunteers, Special Constables and cadets attended a 'Cheers for Volunteers' event at the force's headquarters last Wednesday (1st June).
The event was part of a national campaign by the Royal Voluntary Service to mark the Queen's Platinum Jubilee celebrations.
For some, volunteering is a stepping stone to a possible future career in the police, while for others it is a way to give something back to the community and take up a new challenge. Either way, North Yorkshire Police benefits hugely from the wealth of talent and experience they bring, from all ages and all walks of life.
Volunteers don't replace employed police officers and staff, but they do carry out important activities that complement their work.
There are many ways to volunteer your time to support the North Yorkshire Police:
Special Constables have the same powers, uniform and responsibilities as regular (paid) police officers, but volunteer on a part-time basis. They volunteer a minimum of 16 hours a month to support local policing.
Police Support Volunteers carry out a range of roles, from delivering vehicles to working on crime prevention initiatives alongside Neighbourhood Policing Teams.
And Volunteer Police Cadets, aged between 13 and 18, contribute to local policing objectives by attending community events, assisting local Neighbourhood Policing Teams with leaflet drops, and even role-playing in the training of student police officers.
The Royal Voluntary Service is aiming to thank 10 million volunteers nationwide at events throughout the month.
Chief Constable Lisa Winward, who started her career as a Special Constable, said: "Volunteers work alongside police officers and staff as a vital part of the policing family – and we gain enormously from the breadth of knowledge and experience that they bring.
"The police service has a strong history of volunteering, and I am extremely proud of all our volunteers. We value their support day in, day out, but 'Cheers for Volunteers' gives us a chance to formally recognise their passion and commitment – so it was a pleasure to attend this event and thank them on behalf of the force and our communities."
If you're interested in joining North Yorkshire Police as a volunteer then visit northyorkshire.police.uk and click on 'Jobs and volunteering'.