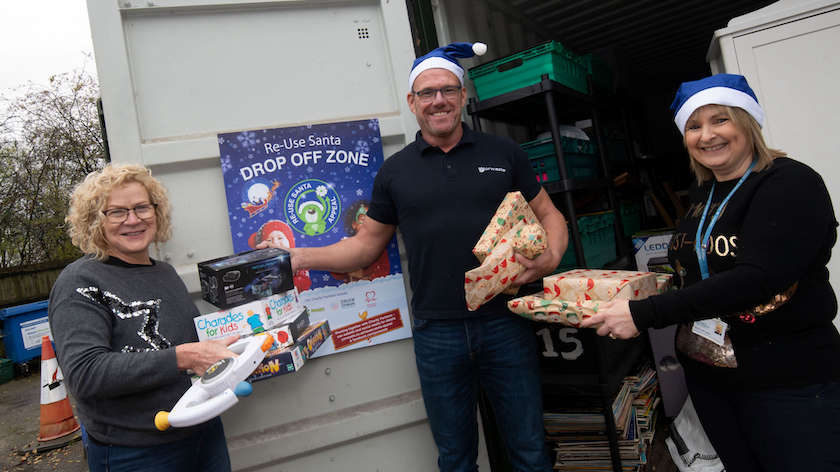 Skipton residents are being urged to help spread some Christmas cheer by donating unwanted or unused toys and games.
The annual Re-Use Santa appeal has been launched at household waste recycling centres across North Yorkshire, with donations being accepted until 3rd December.
Last year, a record 3,000 items, or 20 van-loads, were donated for children and teenagers across the county who might not otherwise receive a gift at Christmas.
North Yorkshire Council's executive member for environment, Cllr Greg White, said: "It is no secret that more and more families are finding it difficult to make ends meet.
"Christmas should be a time of joy, but for some it leads to increased stress and anxiety as they worry about not being able to provide for their children.
"The Re-Use Santa campaign is one way of helping parents out, ensuring that their children wake up on Christmas morning with a smile on their faces.
"The campaign also has the added benefit to the environment of reducing potential waste and I would encourage everyone to get involved."
Everything from action figures and dolls to games and puzzles for babies up to 16-year-olds will be accepted, so long as they are in good condition and safe to use.
Toys powered by mains electric cannot be accepted. Site operatives at Skipton household waste recycling centre at Skibeden will be on hand to accept donations, as well as advise on recycling or disposing of items that are unsuitable.
North Yorkshire Council's head of early help, Barbara Merrygold, whose colleagues will help redistribute the donations, said: "As a society, we are constantly being encouraged to buy the latest gadgets and gizmos and so many things that could be of use to others are left to gather dust.
"Instead of putting them at the back of a cupboard or throwing them out, why not give them a new life and bring a smile to a child's face this Christmas."