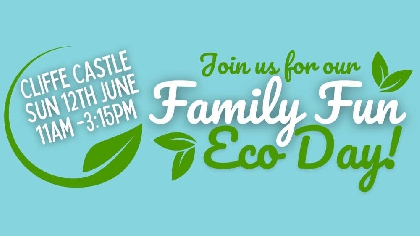 Cliffe Castle Park in Keighley is to host its very first family fun Eco Day event this Sunday encouraging people to look after the planet and to promote the small changes that everyone can make to become more sustainable.
The event which is a collaboration between Bradford Council and Mind The Gap takes place on Sunday 12 June between 11am and 3.15pm.
Mind The Gap, England's leading learning disability performance and live arts company, will hold special performances of their new family friendly short play about climate change called, Leave The Light on for Me at 12.30pm and 2.30pm.
There will also be lots of other free, fun things for people of all ages to get involved with including seed giveaways and a unique photography activity with Keighley Photo Hub giving people to opportunity to learn how to create pictures from just sunlight and plants.
Cliffe Castle Support Group will also be there with a guided Flower Insect Timed Count (11am to 12 pm, meet at the first glasshouse) and a Meadow Wildflower Walk to take a closer look at the Cliffe Castle Meadows (12.30pm to 1.15pm meet at the picnic area). Both activities are aimed at families and are child friendly.
River Worth Friends will be testing people's knowledge of how long different items of litter remain in the environment with their fun display. Visitors will also be able to get up close and personal with some of the bugs that call the river home.
Riddlesden Green Connection with Plastic Free Riddlesden and Zero Waste Thelma will be demonstrating ideas for sustainable living, with eco-liquids and plastic free products to buy. Bring along empty bottles to refill, with washing up, laundry, fabric conditioner, anti-bac hand-wash, anti-bac surface cleaner, shampoo and body-wash products on sale. Glass bottles with trigger spray and toilet cleaner bottles will be available to buy.
There will also be lots more stalls and activities for people to get involved with including Trees for Cities, RSPB, Bracken Hall Country Side Centre, Airedale Bee Keepers, Yorkshire Wildlife Trust.
Councillor Sarah Ferriby Bradford Council's Executive Member for Healthy People and Places said: "This first of its kind event at Cliffe Castle and I hope people come along an take this opportunity to find out about the things that they can do to make a big difference to the planet whilst having a fun day out."
More information on the Cliff Castle Support Group Facebook page facebook.com/Cliffecastle.supportgroup