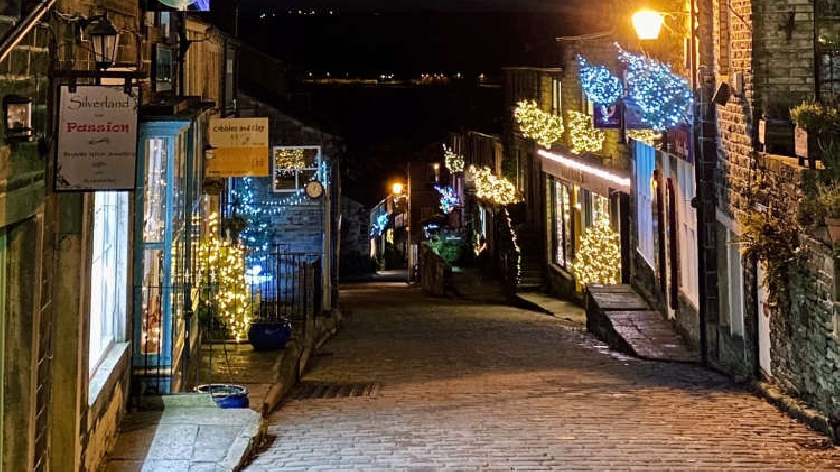 The team behind Christmas in Haworth is looking for someone to help turn the village festive by putting up dozens of Christmas trees along the iconic Main Street.
Last year more than a hundred Christmas trees adorned the road, drawing public and media attention from far and wide and helping to make Haworth one of Yorkshire's favourite Christmas destinations. This year the much-loved spectacle is in jeopardy, meaning the street might be left in the dark.
Ian Park, Leader of the Christmas in Haworth team explains: "It's quite a job to prepare the trees to fit the special brackets on the buildings and then balance on a ladder to fix them in position after they've been decked in Christmas lights on the ground. Volunteers from the Christmas in Haworth committee have stepped in and undertaken the task for the last two years, when the person who had previously always done it retired.
"We are hugely grateful to the committee volunteers, but with the organisation of all the other Christmas events to do, we need to hand the installation of the trees back over to a professional.
"Unless we can find a person or business to step forward it may be that Christmas in Haworth 2022 will be the darkest on record."
Ian adds: "Through fundraising, we are able to pay someone a reasonable amount to do it – but we're struggling to work out who that might be and how to reach them"
The Christmas in Haworth team are asking anybody who think they might have the time, expertise and equipment to help save Haworth's Christmas to get in touch via email on info@christmasinhaworth.co.uk. Interested parties will be sent a detailed specification of what is required to quote against… and potentially a big thank you from Haworth!
Christmas in Haworth is a small volunteer group of local traders and councillors who organise the decoration of Main Street Haworth at Christmas time, plus ten days of festive events during the four weeks leading up to Christmas.