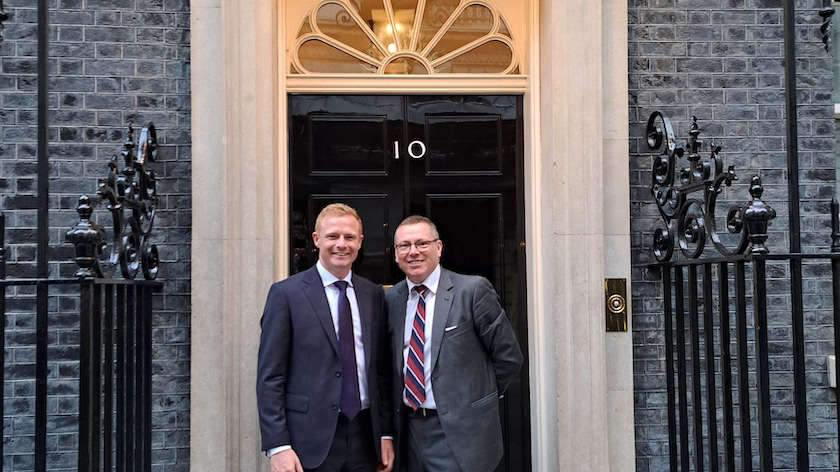 Former RAF Police Operative Mark Sugrue from Ilkley has attended an event at 10 Downing Street to celebrate veterans from across the country.
Mark has served across the globe, including in the Northern Ireland and Bosnia conflicts, and was nominated by the town's MP Robbie Moore as Ilkley's Local Veterans Champion for his contribution to veterans in the town.
Former servicemen and women from across the UK journeyed to London for the Downing Street event, hosted by Johnny Mercer MP, the Minister for Veterans' affairs who himself served three tours in Afghanistan.
Mark Sugrue received high praise from the town's MP for his role in organising the Ilkley Armed Forces & Veterans Breakfast Club for the community, alongside fellow Ilkley resident Jason Sands.
A part of the national network of Armed Forces and Veterans Breakfast Clubs, the Ilkley Armed Forces & Veterans Breakfast Club meet on the last Saturday of each month from 10am until 12.30pm at The Listers Arms pub, offering veterans of both sexes a welcoming space to connect and share experiences.
Robbie Moore MP said: "I was immensely proud to nominate Mark Sugrue as our Local Veterans Champion at Downing Street. Mark really is a standout guy and it was great to welcome him to Parliament before the event to hear more about his experiences serving in the Royal Air Force Police - and for a quick tour!
"Both Mark and Jason are doing such a service in providing a vital support network for our veterans in Ilkley, and I'd like to pay tribute to all those involved in making Ilkley Armed Forces & Veterans Breakfast Club a success.
"We are forever indebted to our veterans, their families and all who serve, and I will continue to do all I can in Parliament to make sure that we celebrate and support all of our current and former armed service personnel."
Mark Sugrue said: "It was an absolute privilege to be among so many great people who are doing so much good work in support of veterans. Meeting these stalwarts has shown me that we in Ilkley are on the right path but there is so much more we can do. Our club will strive to meet these goals. It was also pleasing to see so many MPs that genuinely have veteran issues high on their agendas. Per ardua ad astra."