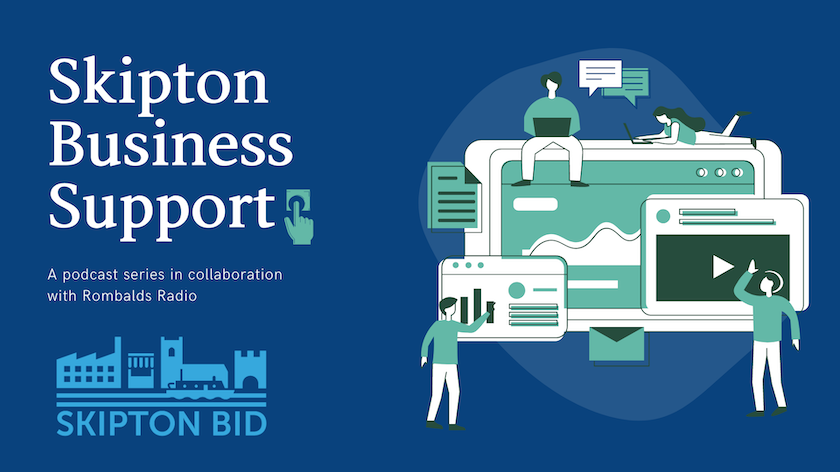 Skipton Business Improvement District is working with Rombalds Radio on a new series of podcasts to help local companies as they transition out of lockdown.
The "Skipton Business Support" podcasts will offer local businesses free access to an array of expert advice. The series aims to address the challenges businesses and individuals are faced with as lockdown restrictions are lifted.
Five topics have been identified to launch the podcast series, focusing on mental health and wellbeing in the workplace, employee furlough and bringing teams back to the work place, managing finances and CIBLs repayment, pivoting, adjusting and diversifying business in a post-pandemic landscape, and hospitality, tourism and marketing out of a pandemic.
Skipton businesses are being invited to submit their questions online via rombaldsradio.com/skiptonbidpodcasts
Businesses and individuals can write in anonymously or under a company name, and questions will be answered by a panel of experts drawn from local businesses and thought leaders in Craven and North Yorkshire. These include Skipton based businesses such as Being Better and Clockwork HR, as well as mentors from the Skipton Ripon Entertprise Group, Federation of Small Businesses for North Yorkshire and Skipton BID.
The podcasts will be hosted by Rombalds Radio co-founder and breakfast show presenter Stuart Clarkson.
Liz Smailes, Marketing & Communications Officer at Skipton BID says: "We wanted to move away from webinars, as these can be time restrictive, but also given the sensitivity around some of the topics that are the real challenges we are hearing about from employers and businesses in the area. Not everyone is comfortable revealing themselves on camera or via chat boxes to talk openly about the issues that are keeping them awake at night. It was therefore important to have an element of anonymity, breaking down any barriers and enabling us to really get to the core of the problems. The anonymous online submission form with Rombalds Radio provides that solution.
"The panel of speakers for each topic has been drawn from local experts who understand the local landscape and challenges first hand. We look forward to releasing the first podcasts at the end of this month and continue offering businesses the support they need, just in a fresh and socially distanced way."
The first two topics around the workplace will be addressed in February, with the three other topics discussed shortly after the lockdown exit plan is announced by the Prime Minister next week - and after the Chancellor's budget is revealed on 3rd March.
The Skipton Business Support podcasts will be available to listen to via this website and also via Apple Podcasts, Spotify and Google Podcasts.
Those who listen to the series are encouraged to share their thoughts across social media with the hashtags #SkiptonBusinessSupport and #AtHomeInSkipton where the BID team and subject specialists will be on hand to engage and answer any subsequent questions.